The Competition To ENTER!!!
The life of a chef is a passionate, creative and rewarding existence with a continual learning curve throughout their career. Delifresh exists to connect, engage and drive our love for food throughout our amazing occupation of being a chef.

The Delifresh Young Chef of the Year competition was born to give excitement back to our fabulous industry, showcasing the outstanding young talent we have in the trade and giving them a springboard to catapult their career and profile for all to see.

This years entries are OPEN - get your entry into the net before the closing date in JULY

This competition will never be about Delifresh. It's always been about the chef and their ability to excite all our minds as we unite together in our Love For Food.
Enter TODAY....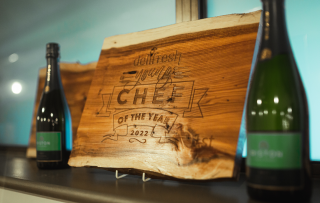 See The Action Here From Last Years Competition...
The Heat Is On At Our Regional Heats...
The regional heats were designed to make it easy for any chef to compete - our local colleges rose to the challenge of hosting the Masterchef-style cook-off.

The contestants were tasked with creating two dishes within 3 hours - the only criteria being apple must be present in at least one of the two dishes - the chefs were judged on set criteria aimed at bringing the best out of the food.

To get to this stage, all of our initial entries were judged by Pierre Koffmann (who you can read all about in our judge's section below)

With an incredibly high standard set demonstrated at each of our regional heats, our judges were really put to work in each of the heats to decide who to put through to our final, held at The Grand, York.

All of our regional finalists left with a personalised Delifresh chef white apron and bag FULL of goodies from a range of our suppliers, as well as a certificate plus a connection with Delifresh forever!

Gareth Ward Stated, "To be asked to judge at the Newcastle regional heat was brilliant; seeing these young chefs take the responsibility of becoming our next chefs is warming. Our industry is under pressure, and this fantastic competition is giving excitement, connection & passion back into our industry WELL DONE DELIFRESH x"
The GRAND Final...
November 14th brought a crescendo to the competition as nine of our regional finalists attended the FANTASTIC Grand Hotel York to cook their hearts out for the judges so we could hunt out the most passionate, skilled and enthused chef on the big day

The Grand Hotel York was built in 1906 as a palace of business for the headquarters of the Northern Eastern railway. An unbelievable restoration occurred in 2010, with an extension in 2017 to make it a beuatiful 5-star establishment.

The facilities at The Grand were perfect for the competition, with a state-of-the-art cookery school hosting individual stations for the chefs, amazing canapes and hospitality for our guests and brilliant service for all.

The cooking commenced at 10:30 with a strict 3-hour time frame to complete their master dishes in readiness to be judged.
Find out what our chefs cooked below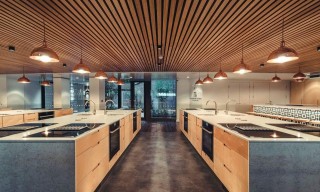 Say Hello To Our Judges...
From a wide range of backgrounds and establishments, our judges have given their time and expertise for us to put this competition together. It has been incredible to see our entrants work alongside some fantastic chefs within the industry.

From Michelin-starred restaurants to smaller businesses, and local chefs packed with bags of talent, it was great to see them come together in each of the heats; with expertise and opinions from all walks of life, they still had a hard task on picking out our strongest young talent!
Would you like to be a 2023 judge - If so get in touch?
Harry Blades - The Grand
The 2022 competition was an intense, passionate and flavour-driven journey to find the best Young Chef amongst the most remarkable set of finalists.

The competition was unbelievably tight, and although we had to find one overall winner - Everyone who entered and those that made it through to the heats and then onwards into the final are all WINNERS.

Harry pipped everyone to the post and has been crowned the Delifresh Young Chef Of The Year. A raft of prizes are lined up for Harry, including a totally mind-blowing weeks-long experience at Gareth Wards TWO Michelin Starred Ynyshire - this is a once in a lifetime opportunity for any chef - Harry, and we are so EXCITED for you to be able to do this!!!

Along with the experience, Harry will also be joining Delifresh for an elongated trip out to France to be guided around the world-famous Rungis Market, then onwards to Blue Whale to witness the apple harvest, process, and so much more.

Including all that, Harry will also be connected with Mother nature like never before as we embrace Harry and his career by including Harry in supplier tours, flavour tests, range reviews, and so much more things alongside Delifresh which nobody outside of the supply base has ever seen before - A great experience for Harry to develop his knowledge, understanding and Love For Food.

Harry said, "It's a great honour to be awarded the Delifresh Young Chef winner this year, and I could not think of a better place to have won it than in the hotel I cook for. Our Head Chef, Ahmed Abdalla, has been a total inspiration for me, helping me through the many extra hours spent in the kitchen refining my dishes for today. The hospitality industry can be challenging, but days and events like this gives us, as young chefs, confidence in our culinary careers and how we can grow. Thank you, Delifresh for the opportunity. I can't wait to see how the competition grows over the coming years & I can't wait to be part of it."
Congratulations Harry....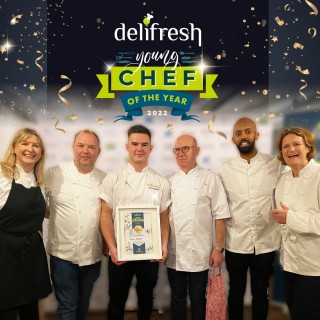 A MASSIVE THANK YOU to our sponsors
We would not be able to carry out this competition without the help of our sponsors, from goody bags and produce to prizes - we have had an AMAZING level of support from both our suppliers and customers!

Without this amazing network of help, this competition would not exist, so a huge thank you to all who supported the event

The final brought over 107 people together to celebrate our winner - (Harry Blades). Standing in that room with like-minded people all coming together to celebrate our combined LOVE FOR FOOD was so warming to be part of.
Would you like to be a 2023 sponsor? If so Get in touch!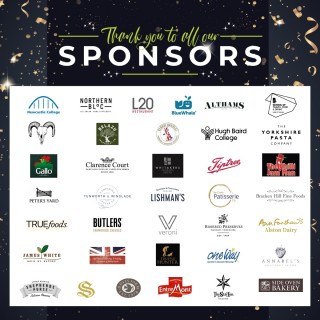 "What an INCREDIBLE, PROACTIVE & MOST OUTSTANDING competition - Well Done, Delifresh, the 2022 Young Chef Of The Year, has been a pleasure to be involved in - I can't wait to see this develop year after year to become a national success and a driver to engage & excite our next generation of chef."
Simon Crannage - Grantley Hall