Seeds On The Outside...
This week we will start to see the arrival of the most deliciously sweet and totally radical northern grown Annabel's strawberry.

Volumes are a little unclear at the moment due to a slight cold snap this past week but possibly Wednesday onwards we should start to witness the first pick of the season.

We will go into more detail around this marvellous northern fruit in weeks to come but get your thinking caps on as it's becoming increasingly excited and we are ready to welcome these fantastic northern fruits into your kitchen.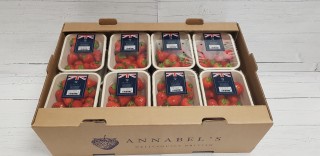 The Wild Movement
For a short period, we thought it might be best to incorporate all the magical wild flavours into this creative inspirational zone.

We have hundreds of wild followers every week who glide into the Totally Wild section, but whilst the season is in its infancy our cells twitched as we wondered if all the wild flavours would like to sit amongst their cousins for a while as we didn't want them to feel a tad left out.

So here they are glide below to see what the wild has to offer this week.
Nettles - NEXT WEEK!!!
What's All This About ??
With the mushroom world hotting up we are seeing some amazing mushrooms at the moment and we need to share some mushroom vibes

Come back weekly to find out whats the best for the week ahead...
Goats Cheese
Goats cheese can often be overlooked but this intriguing cheesy category holds some most magical uses

If you are looking for a different edge to your cheese board or want to add a hint of goaty magic into your cooked creations then just take your pick from the list of options below.
All In Stock & Ready For Action....
Its Simple To Find Your Way Around
Select the section thats makes your eyes twitch with excitment and enjoy - Remember there is lots to explore...