Show Us Something Different
For a chef, every week brings something new to experiment with - For others it can be sometimes a struggle to easily reach and find these so tasty treats.

Not Anymore as MyDelifresh is here to help in feeding your mind with new interesting food led ideas.

We are packed full of outrageous ideas just lurking ready to explode minds all around.

Discovery Corner exists to do just that - Each week we will highlight 6 of the best ingredients on MyDelifresh with a link so you can add them to your basket. Plus give you the opportunity to watch a few videos for best cooking tips and so much more
How Amazing Is This???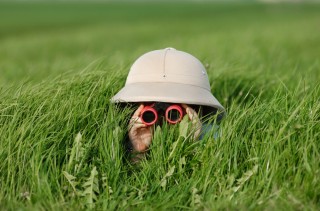 Wow, Wow, Wow
Looking for some different things you can do with a banana???

Well check out this short video, get your rolling pin ready as you will be rolling bread before you know it...
Yorkshire Asparagus - £1.95 x 250g bunch

These green spears of joy are grown by Richard Morrit who resides over in the sandy fields of Sand Hutton (York)

Richard's land is the perfect growing condition for asparagus as the soil is extremely sand-like, and this traditional maritime plant loves it.

Picked to order all by hand by Richard and his small team this will be the best LOCAL asparagus you will have ever tasted.

The season is here so make sure you order a couple of bunches to try...

From field to fork delivered to your door by MyDelifresh – How EXCITING!

Buy Here - Link Will Open In New Window

Bunched Carrots - £1.55 x Large Bunch

These bunched carrots will remind you of when you may have grown them in the garden as they come with the tops on them.

Plucked straight from the farm and direct to your door they are so fresh the tops will be bouncing with joy.

The actual tops of the carrot can be eaten and are amazing deep-fried and dusted with salt as a cheeky garnish to a weekend BBQ.

Dont forget about the actual carrot though they are sweet and truly delightful.

Buy Here - Link Will Open In New Window

Medjool Dates - £2.49 x 250g

Who doesn't like dates ???

Hopefully, nobody answers me as dates are natures true natural sugar. These unbelievable Medjool dates will most definitely change your mind as they are truly EPIC.

A nice 250g size these will keep you going for a few days - A date a day will certainly keep the doctor away.

Make sure you investigate...

Buy Here - Link Will Open In New Window
Beef Brisket - £9.95 x 1kg

Oh, My Word!!!

Make sure you order a piece of this outstanding brisket get it sunk into a pan with red wine and stick and slowly braised for about 5 hours.

Get the yorkies and roast potatoes at the ready - perfect for a any day treat...

Buy Here - Link Will Open In New Window

Amazing Meatballs - £6.30 x 20 x 60g

These perfect meatballs are totally outstanding.

Seal them off and drop them in your simmering sauce to gently cook and they won't fall apart.

Then once just about ready to serve just drop an egg on top and grill for something totally different.

They eat perfectly, not full of fat and perfectly seasoned you need to give them a try.

Buy Here - Link Will Open In New Window

Membrillo Fruit For Cheese - £7.95 x 500g

The finest quince jelly you will ever taste is here for you to enjoy.

This handy tray will see you through a few days as its easy to use and stores very well. DEEP quince flavours will keep you amazed for a long time as it tastes truly amazing.

Perfect with cheese, cooked meats, charcuterie and other special delights.

Handmade in Dorset

I'm VEGAN

Buy Here - Link Will Open In New Window
Its Simple To Find Your Way Around
Select the section thats makes your eyes twitch with excitment and enjoy - Remember there is lots to explore...