Time For Giving....
The wider community is extremely close to our hearts and the festive period is often a troublesome time for many. Over the last few weeks, we have united together to support many as we strive to bring some festive joy to those less fortunate than ourselves.

This past week the entire Delifresh team came together to support Save The Children UK with the annual Christmas Jumper Day.

Every department embraced the challenge and arrived at work with their festive sweaters on to raise as much money as possible for the charity.

Sweaters got dug out from the draws, under the bed, salvaged from the shed, even purchased that very morning from leading retailers so they could all take part.

A thank you thank you to all our team for the support - everyone looked fantastic and full of festive cheer.

If you would also like to donate alongside Delifresh, please text TEAMFRESH5 to 70050
Look At Our Amazing Evening Sales Team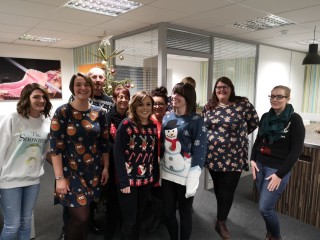 Wow Now Here Is An idea
This inspirational video came across our vision one morning while drinking coffee.

We tried it out for lunch and Oh my word you need to give it a go...
Its Simple To Find Your Way Around
What Else Takes Your Fancy??