Come Over & Be Inspired
By now you should be aware that the delifresh engine rooms are full to the brim with seasonal delights. With every piece of fresh produce available along with 2800+ speciality ingredients - it's a must you pay us a visit to inspire your minds.

As chefs, those 4 walls which a kitchen can be are sometimes a closed space which is difficult to inspire our cells when we require it most.

So, stop sitting in the dry stores on the overturned stock pan pulling at your hair as you desperately try and come up with new creative ideas, just get in touch using the form below to book in with our team for an engine room tour.

You will leave with creative thoughts, inspired and full of enthusiasm for the season ahead.
What Are You Waiting For ???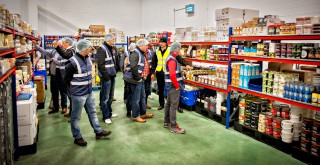 Awesome Dried Salmon....
This week's late night gliding around YouTube has brought random things but this crazy dried salmon video caught our attention.

Have you ever done this before??

Get the grater at the ready this will be fantastic (Two months later!!!)
Its Simple To Find Your Way Around
What Else Takes Your Fancy??