Dakota - Leeds
Last Wednesday brought ten budding food enthused beings into our Delifresh engine room as they ventured into our Bradford facility to become closer to the season.

Greg, our most inspirational sales guru entertained by cooking his legendary egg offerings spiced with delightful notes for their arrival then proceeded to educate and excite as they ventured deep into the engine room.

Dakota Leeds is a most inspirational establishment and its great to see the team as they took time out of their busy day to visit.

Their creative drive is addictive, it's fantastic to see the seasons embraced as much as they did during their time with us.

Our creative facilities are open to inspire to organise a guided seasonal tour simply get in touch to arrange.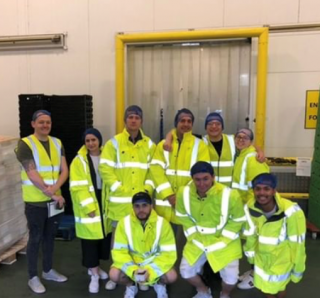 Really ???
We know its a while off, but as we are busy putting our final touches to some festive ideas, especially for you. Thoughts of mince pies, puddings, fondants thoughts arrived, and we thought it would be good to ask if there is anything special you may like to see on offer during Christmas 2019.

Simply write us a little festive note below with any ideas you may have, and we will reward you with a free box of mince pies in December!!!
No Thankyou...
Unconnected gliders captured this while cage diving in Guadalupe, Mexico a female great white shark began chomping on this cage.

Hearts were pounding & the adrenaline was gushing and they couldn't leave this photo oppertunity.

How many people get to stare down the throat of a 3,000 lb great white shark and bring back this quality of footage?

This is worth a watch!!!
Its Simple To Find Your Way Around
What Else Takes Your Fancy??