Speedy Eyes
Time is challenging for many, so if you are in a rush but want to keep refreshed you have navigated to the right place as our fast reader page is designed for you.

Simply swipe away and let your eyes slide down the refresh in one page, once you have more time come back for a deeper look around to find out all the juicy info.

Speed reading is a skill that most of us host but how many can speed skate ?? (this is getting random) Cast your eyes below and feel your cells ignite as your eyes capture glimpses of all things nice
Speedy Gonzales....
Why Not Try Something Ultra-Special ??
With countless fresh flavours landing in our engine room daily it would be a disaster if we didn't inform you of a few cheeky speciality ingredients that are also on true form this week.
Do You Really Want To Miss It ???
Dont Miss Out On Some Inspirational Facts.
Hero Of The Week **Robert Yeomans Parsonage Hotel- Escrick **
The social slice is going from strength to strength and its exciting to witness the continual engagement across all our channels as you tag us in your seasonal masterpieces - This week the upload form below became alight as Robert Yeomans uploaded a shot of his seasonal creation - Gin marinated venison carpaccio, candied walnuts, Harrogate blue cheese, pear and red wine syrup. The Parsonage - Escrick is the most fantastic place to visit and their continued engagement with the season, andweekly Refresh is impressive to see - Robert you can stand tall this week as you have been crowned our Upload Hero of the week - Congratulations - Get in touch to claim your prize.
The Inn At South Stainley
If you have never been to the Inn at South Stainley this weekend is the time to go as they have organised a most amazing charity three-day extravaganza to support the amazing Martin House Hospice charity.

Friday, Saturday & Sunday will be actioned packed with events from food enthused people such as demos by Michael O'Hare, Mark Taft and other local chefs including a cheeky appearance on stage by Delifresh as we showcase the season to all.

There's Beer & Wine Tents, Gin Tastings, Food Hall, BBQ, Live Bands, Entertainment it's going to be action packed and full of fun.

If your eyes are gliding this text and its Monday onwards you have missed the action but that doesn't stop a visit to the Inn as you won't be disappointed make sure you pop in to help them celebrate the season in true seafood pub style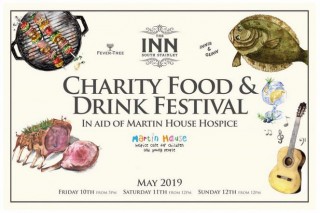 Shout From the Hills...
No news is often seen as a good thing but not on here!!!

This section of your Refresh is here for you to spread to the world a piece of news that you may have.

It could be around a member of your team, a move to a new establishment we will leave this up to you.

To send your news in simply fill the form below and we will highlight you on this chef inspired page for the world to see.

Maybe you want to highlight a member of your team, just upload a picture (you can do it from your phone) and let us spread the news.
Fried Egg White Foam ???
This sounds weird we know but its actually totally mind-blowing.

We gave this a try the other day and the uses this versatile foam can offer is remarkable.

We will leave the creative ideas up to your cells but be sure to try this out as it could change your view on egg whites forever more...