It's Back...
Welcome to another edition of MyRefresh.

The weeks are flying by as lockdown continues becoming strangely normal - Delifresh are here to support all in this most troublesome of times with delivery of food to your door there is no need to venture to the shops we will simply come to you!!!

The range on MyDelifresh is continuing to increase with the addition of some fantastic things this week - Make sure you keep your eyes on our social media to find out when new items will arrive.

The Refresh is designed to bring you closer to the season and all that's fantastic so grab a pot of tea, sit back and take a glance to see what's outstanding for the week ahead.
Any Links Clicked Will Open A New Window Into MyDelifresh - Just Flip Tabs To Get Back.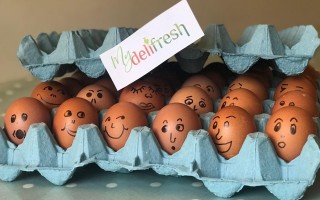 Did You Hear The News???
Last week social media went crazy as we announced that we would be continuing our home delivery service forevermore.

After so much love for the service and countless comments from the public demanding we keep the service alive, we have announced we will be doing just that.

Over the past eight weeks, we have picked, packed and delivered so many orders it's AMAZING. The lifeline we offered has well and truly been embraced. As well as being extremely busy on the home delivery front we have also maintained our commitment to our wider community and continued to offer help where required.

Thank you for the support over the past few weeks - Just think you possibly don't have to go to a supermarket again as MyDelifersh will be available when you require - How Amazing Is That ???
Are You A Winner
Last edition we saw countless entries for the opportunity to win 25% off your order on Mydelifresh.

Did you win - Glide over to Smile, Camera, Action via the menu below to find out.

Before you go though here are few entries :-)