Happy Birthday!!!
Every week for the past year a continual creative vibe has been flowing out of the Delifresh engine room with rapid speed and excitement.

This strong yet sometimes crazy message has reached a pinnacle point as TODAY your weekly Refresh is celebrating its first birthday - How amazing is that??

This continual drive of information has excited many as the showcase of seasonal flavours, exciting new products, flash appearances from dressed up apple ninjas, not forgetting about the birth of Golden Del Boy has been a continuous push of inspiration for all to see.

Many keyboards, sleepless nights and lots of brainstorming have brought your weekly Refresh together and we thank you for your continued support & enthusiasm for all things Delifresh and the embracement of your Refresh.

It's simply all done especially for you and our continued commitment: For the love of food...
Watch out as changes start to take place - Share your thoughts below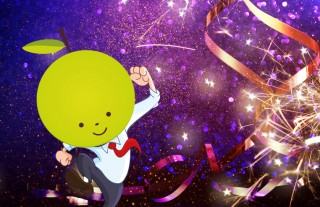 Once In A Lifetime!!!
To help celebrate this momentous occasion we want to invite you to enter a competition which will blow your cells.

Engage this week and get slipped into a prize draw to win an all-expenses-paid guided tour for you & a colleague around the most amazing Rungis Market - wait for it - PARIS!!!

This inspirational trip will be a two-day event encompassing some amazing food, early morning tours around the markets - viewing the countless types of cheese, meat, poultry, speciality food and the most outstanding amount of seasonal fresh produce Europe has to offer...

Rungis is the European hub for food, and this opportunity to visit is a once in a lifetime event for many, so make sure you enter to hopefully join us on our travels.

All we need you to do is fill out this short questionnaire, and you will instantly be entered into the draw.

For those that entered the competition last week make sure you enter it again you could win last weeks prize & this!!! (Wowza)

What are you waiting for fill in the form and cross your fingers, toes and maybe eyes to be drawn next week and become triumphant and our birthday WINNER...

Closing Date Thursday 23rd May - 12 Noon
Sign Up - For Your Weekly Alert
For those that have glided into our pages stumbling upon our vibes, you can sign yourslef up to receive a little nudge everytime a new version of the refresh becomes alive.

Slide your eyes down the menu below and tap Sign Up - Insert your details and sit back and let the refresh come to you every week.
Never miss when the Refresh Is born ever again - How great is that!!!