Veggiecation
Our continual drive to inspire the minds of our younger generation has been active once again as we appeared at Sunderland College on Wednesday to encourage all.

The facilities at the college are immense along with the passion and drive of the level three students. We spent a day energising all around all things fresh produce – investigating crazy facts, tasting random items and genuinely connecting with the seasons.

Our Veggiecation is designed to help our future generation of chefs to be ready when they appear in our kitchens.

What a fantastic day we had at Sunderland College see you in January for a trip around the amazing Rhubarb Sheds.
Maybe you know someone who could benefit from our Veggiecation scheme ???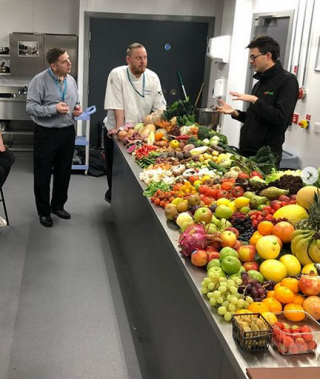 Chefs For Heroes
The community far and wide is very close to our hearts, and this week we stood proudly as we supported a fantastic event organised by Help For Heroes, Swinton Park, Ox Close Farm, Welcome 2 Yorkshire and the amazing Simon Crannage.

Heroes came together and were tagged with a chef from Rudding Park, Rockcliffe Hall, Blue Lion, Bowcliffe Hall, and others as they mentored the creation of a seasonal game dish.

The competition was fierce and the food presented at the end of the day was truly outstanding.

It's always great to support events like this – Hats off to the organisers and all involved how awesoem was the food !!
Carotene Butter
Our senses were hit this week as our late night gliding captured this masterpiece anyone made carotene butter ???

We tried it out, and its genuinely magnificent give it a try.
Video Upload
If you have a kitchen video you want to share then upload it below !!!!

It could be a dish in creation, it could be a delivery being made (Wink) It could even be a most radical video of your team just simply slide on here and upload your content.

We will do the rest and share with the world !!!!
Its Simple To Find Your Way Around
What Else Takes Your Fancy??