Stand Tall...
We are sure you have heard the sad news around Jobel Robuchon. This brought a tear to our eyes, not only was Robuchon known for the relentless perfectionism of his food; he was a leader in French cuisine as he strived to pull away from excessive reductionism of nouvelle cuisine.

Robuchon was known to shout from the pass "There is no such thing as the perfect meal – one can always do better" His creations were and still are seen as harking back to a more authentic, French cuisine which was based around the inner beauty of each product utilised instead of just making things pretty with zero body.

Drawing his inspiration firstly from the simplicity, he led the way in creating a more delicate style respectful of natural flavours. He spent his time nurturing his almighty group of worldwide establishments and is the only chef to hold 35 Michelin stars at any one time.

A most remarkable, kind, respectful and knowledgeable person Jobel Robuchon you will be most definitely missed but your name is etched into the taste buds of every guest that has ever lifted a fork in any of your amazing restaurants over the years, and scorched into every chef's cells worldwide for the most tremendous and passionate work you have done for our trade.
Anyone for Pomme Puree on everything just to pay our sheer respect for Jobel??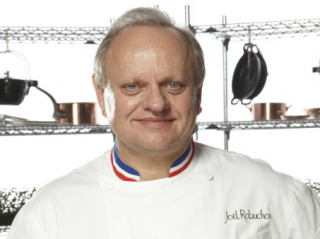 Awesome Ravioli's
This week's late night gliding around YouTube has brought random things but this crazily shaped ravioli caught our attention.

Have you ever done this before??
Its Simple To Find Your Way Around
What Else Takes Your Fancy??