Stew & Oyster
One afternoon last week the alert came through as to some most awesome news sent by the team @ The Stew & Oyster using the form below.

This most creative group of establishments are having a makeover in some sites at the moment as they carve new interiors ensuring the future is fruitful.

Both the Calls landing & The Oakwood are looking amazing (check out the pictures)

Their main production kitchen is being upscaled plus just to make it even more exciting they are just about to open site number 6 in early May in Malton.

These most creative people are true Delifresh warriors as they continually showcase the best the seasons have to offer and it's great to support in many creative ways.

If you are ever passing any of their doors make sure you stop by to witness their passion for food and most outstanding operations - The very best of luck for the new venture and hats off for your continued engagement with your weekly Refresh...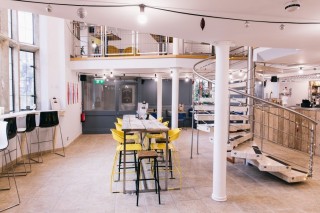 Send The News
No news is often seen as a good thing but not on here!!!

This section of your Refresh is here for you to spread to the world a piece of news that you may have.

It could be around a member of your team, a move to a new establishment we will leave this up to you.

To send your news in simply fill the form below and we will highlight you on this chef inspired page for the world to see.

Maybe you want to highlight a member of your team, just upload a picture (you can do it from your phone) and let us spread the news.
Banana Juice....
If you love a good banana your brain may explode when you watch the below...

Just think about the fun you could have with this intense and clear juice.

It's easy to do you must give it a try.
Its Simple To Find Your Way Around
What Else Takes Your Fancy??