Yorkshire Show
This past week has been a crazy time in the north as the annual Yorkshire Show has been open for three days.

This huge agricultural show brings thousands upon thousands of people from all over the UK to the region to celebrate all things Yorkshire.

Over the decade's food has become a huge area for the show and vast amounts of producers, chefs and food enthused people come together to relish in all things food which the region has to offer.

With the love of food which Delifresh holds we have supported this show for countless years and it was great to be involved once again as we rattled the pans and offered seasonal inspiration alongside other delifresh warriors such as:Tthe Star Inn The City, Whites of Beverley, The Old Deanery, The Plum & Partridge, Horto at Rudding Park, The awesome Rosemary Shrager who loves all things Delifresh, The House Of Tides, The Garden Rooms, Swinton Park, The Milestone, Fodder, Ye Old Sun Inn, just to name a handful.

For those that popped by the show to enjoy its 160th Birthday, we are sure you had a great time.

The gates are now closed for another year make sure you mark it in your diary for next year, it's an event you simply can't miss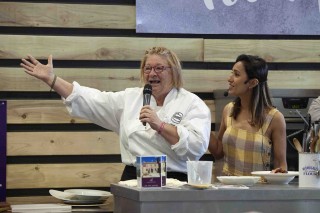 Click & Get Creative.....
This week in our hunt for inspirational YouTube videos we came across a video created by a true Delifresh warrior Gareth Ward.

Gareth kept this video secret from us but we have found it and now its time to share. Gareth your food is insane and this is well worth a look and definetley worth a visit.
In With A Chance....
Simply send us your thoughts on the weekly refresh below and be entered into a prize draw to win a truly awesome prize !!!

Anyone for a Delifresh chef jacket, apron, knife, dog leg (ducks foot whichever you may call it) and other goodies???

You have To Enter To be a winner so dont hang around release your thoughts upon us:
Its Simple To Find Your Way Around
What Else Takes Your Fancy??