Not Long Now
By the time you read this, the annual tinsel event won't be far away and the large Christmas parties may be starting to slow down.

This time of year brings lots of challenge to a kitchen as long hours whilst everyone else is celebrating sets in. Menus easily became static as every kitchen across the land battles to make it into the new year with a gasp of relief.

This is a busy time for all and Delifresh are here to keep your creative minds ticking as the refresh and our social channels will be on hand just when you need them.

Over this next few days, you will receive alerts as to any product order cut off times we have in place and any more important festive news you may need to make this busy time as smooth as possible.
Stay Alert...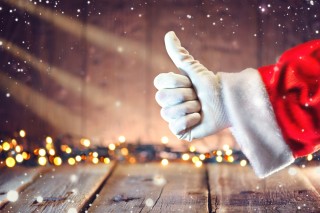 Always Here...
With the busiest time for kitchens across the land so close you can smell it you will be happy to know that Delifresh will be delivering to you on the above days - keeping you Refreshed and stocked up as you work your way through the festive period.

We have worked hard over the past twelve months planning to ensure you will receive the freshest service possible over this period, many are closed but not you or us as you cook for countless hungry guests, and we supply the goodies.

With the ability to receive a top-up order on the 27th before another busy weekend we will also be on hand with a Christmas Refresh, tantalising specials, social media giveaways & Golden Del will be on hand offering some AMAZING New Year delights- not to forget lots of festive cheer when you contact us throughout any part of Christmas.

The time has come to have a mince pie, a cheeky bit of brandy sauce and maybe even pull an early cracker as Santa isn't far away and those sprouts won't prep themselves (unless you buy them prepared in a 5kg box!!!)
Ho, Ho, Ho