Stuzzi
If you are ever in Harrogate or even Leeds you need to make sure you pop into Stuzzi to sample some most amazing food and service from an ultra passionate team who champion the season to its full.

New flavours come into season and the team instantly embrace the challenge creating specials that blow our minds - nothing seems to phase their seasonal vibes

For their continued engagement with the weekly Refresh and the regimented Social Media connection, the team have been gifted an apron giveaway.

Stuzzi (stut-zee), short for Stuzzichini, are little plates of Italian cuisine served in small Osterias and bars throughout Italy especially in and around Venice, traditionally eaten by hand, in-between drinks to "keep ones self-going". Stuzzi is best shared between diners in a manner similar to tapas, giving you the opportunity to enjoy the wealth of dishes they have picked up whilst travelling the country.

Traditional recipes sit alongside modern Italian cooking and Street food essentials to create a chaotic mix of gastronomic treats from the world's greatest food country, complemented by carefully selected imported drinks, meats and cheeses.

Next time you are in the area make sure you pop in to see what creative dishes are on the menu that given day.
Want An Apron Or Branded Jacket - Upload Your Creations Up On Social Slice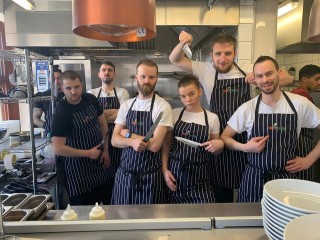 Little Bundles
late night gliding on YouTube brought raised our passion for pasta even higher as our eyes watch with obsession this cheeky video.

Jason Stoneburner, chef/owner/namesake of Seattle's Stoneburner restaurant, shows us all how to make traditional Sardinian stuffed pasta.

These chubby flavour packets, named for the "little bundles" of joy that they are, are easy enough to make yet fancy enough to delight your guests.

Why not give them a try ??
Its Simple To Find Your Way Around
What Else Takes Your Fancy??