It's Arrived...
Christmas week has finally arrived and by the time you are reading this, it could be a couple of days before or you could even be browsing these Refresh vibes on the actual big event just before the busy lunch time service.

Whichever day of the week it is the Refresh remains on the message just when you need an inspirational fix even on Christmas Day.

THANKYOU for all your forward orders and commitment/support over this busy period for all, we hope you manage to get some time off over the event to rest slightly Don't forget that we are OPEN on the 27th December for your seasonal Top Up...
Ho, Ho, Ho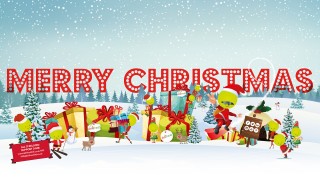 COMPETITION TIME...
If you are gliding around the Refresh on the run-up to Christmas Day or actually on the big day or Boxing Day simply fill in the form below to be entered into our EPIC festive draw.

You actually don't have to do anything to be in with a chance to win a jam-packed hamper stuffed with over 60 + items worth over £200 + chefs jacket - How easy is this...

The winner of the draw will be announced on next weeks refresh so make sure you slip back to see if you're a LUCKY WINNER...

Any entries outside of the 21st to 26th December will not be counted you must fill in the form on either of the days in the period...
How Exciting...