Seeds On The Outside...
The time has come to welcome the trusty local strawberry to your kitchens as Annabel Makin has created the most beautiful strawberry in existence.

Grown for maximum flavour, packed in recyclable packaging, consistent and ultra sustainable these strawberries will most definitely blow your cells in.

We will go into more detail around this marvellous northern fruit in weeks to come but get your thinking caps on as it's becoming increasingly excited and we are ready to welcome these fantastic northern fruits into your kitchen.
Available Monday Onwards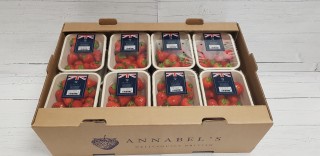 Foraging Day Anyone
If you would like the opportunity to experience the wild during an action-packed day then glide your eyes over to the Chef News section and sign up to register your interest.

It will be an epic day all you need to do is register and mark the date of 11th June down in your diary for some foraging ACTION.
Glide Over to Chefs News NOW to sign up
What's All This About ??
With the mushroom world hotting up we are seeing some amazing mushrooms at the moment and we need to share some mushroom vibes

Come back weekly to find out whats the best for the week ahead...
Its Simple To Find Your Way Around
Select the section thats makes your eyes twitch with excitment and enjoy - Remember there is lots to explore...