The Pledge
Last week saw the first of many environmental summits held by the team at The Grand - York.

This most fantastic day was hosted to bring like-minded people together to talk about sustainability and environmental issues along with a space to communicate to all present our commitments being made by Delifresh.

Our responsibility towards the environment is close to our hearts, and we are continually improving awareness and systems of work in all we do to help safeguard the future, it was great to share our vision with all.

The first summit was all around the reduction of single-use plastic where a pledge was signed to commit actions to this most essential scenario.

The Grand Hotel is a forward-thinking establishment which is truly doing a fantastic job with their team as they drive forward, dedicating time and valuable resource to carve a new path in many directions for their team and the future of hospitality.

It was amazing to spend time with others on the same wave as Delifresh as together we can create a secure environmental future for all.

If you have never visited the Grand, you must do so as this most inspiring establishment is a must visit next time you are in York.

If you want to find out more about this fantastic summit or our environmental commitments, please get in touch.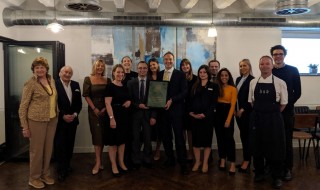 Devil's Kitchen
The 9th June saw an epic competition between Bradford College students and The Holiday Inn Brighouse

Devil's kitchen was formulated, enabling students to utilise their skills in a pressured environment outside of college.

Teams were allocated a budget to decorate the tables & the restaurant was divided in half - The red team took on a Thai theme and the blue team a French each showcasing amazing dishes from both regions.

Students created menus, ordered their own ingredients and sourced décor for their appointed tables. The event was a total sell out as the competition gathered excitement.

After an action-packed evening, the blue team pipped the reds to the post by a fraction all judged by the guests on the evening.

Congratulations to all who took part and for the amazing achievement of raising funds for the Green Fingers charity - We are looking forward to the event next year already!!!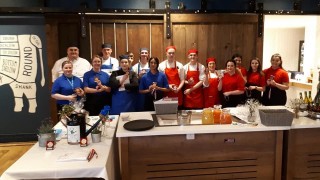 Street Food ACTION...
You'll be mesmerized watching these delicious Street Food baozi being scraped out of the DEEP tandoori oven in Turpan, China.

Words from the publisher of this amazing video are "We arrived specifically to try the best street food in China, on our great Silk Road journey to the deep west of China.

There is a whole new cuisine and street food selection available here, and you can travel here and enjoy it all! Immediately after you arrive, Xinjiang really makes you feel like you've entered a whole new street food world, a new street food universe!

Eating street food here is definitely one of the best Chinese food experiences you can have and is 100% some of the best street food around the world!
Its Simple To Find Your Way Around
What Else Takes Your Fancy??