Deeper Infomation
Creative thoughts and inspirational ideas come from deep places and its not until you understand something fully that the final masterpiece can be joined together.

It's easy to just look at something on face value but when you read into the detail you can really benefit changing your outlook - Sometimes so much so its life changing!!!

Delifresh source and supply over 3000 different products all at your fingertips and showcasing in detail each one is a mind-bending task - With our dedication to the producer its become our duty to offer all that's needed for our dedicated warriors to gain the maximum benefit at all times -

With this mindbending task above in thought please welcome our new section - Limelight Hunter !!!

Each week our cheeky green hunter will be highlighting areas of interesting bringing further knowledge and the opportunity for you to really become closer to a range of products that could usually pass you by.
How Crazy Is This ???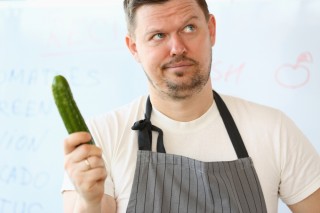 Second Week In
To get things started for the second week please welcome into Limelight Hunter the most inspirational set jelly from Global Harvest!!!

Below you will see in-depthinfo for the most flavoursome Membrillo pastes on the planet.

Global Harvest Who ???

Global Harvest are producers of unforgettable British made fruit cheeses. Like many great innovations, Global Harvest's fruit for cheese had humble beginnings.

The recipe for quince jelly started in the kitchen at home using quince from a small tree from the walled garden. Fast forward several years David & Stuart's fruits for cheese (Set fruit conserve) now span 10 different but equally dazzling flavours and have collected much acclaim along the way.

They also import some very unique & spectacular ingredients from around the world, namely Pollen's, truffled acacia honey & nut oils (These are to arrive shortly)

So much more than an alternative to chutney or pickle, their fruits for cheese transform any cheese or charcuterie board - they look fantastic but what's truly remarkable is the taste.

The small team holds close values which promote the use of seasonal inspiration to pair their jellies with other offerings and coupled with our sheer excitement for the season this new range really fits well with anything throughout the year.
How Awesome...
Click Away
Simply click each picture which gathers interest to find out more info

Mobile Viewers the text will display after the third image **Don't Panic It's Easy To Find Just Scroll Down**
Looking For Shape Ideas ???