Speedy Eyes
Time is challenging for many, so if you are in a rush but want to keep refreshed you have navigated to the right place as our fast reader page is designed for you.

Simply swipe away and let your eyes slide down the refresh in one page, once you have more time come back for a deeper look around to find out all the juicy info.

Speed reading is a skill that most of us host but how many can speed skate ?? (this is getting random) Cast your eyes below and feel your cells ignite as your eyes capture glimpses of all things nice
Speedy Gonzales....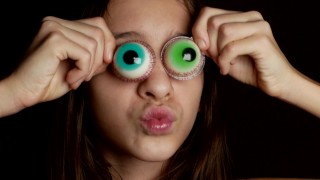 Why Not Try Something Ultra-Special ??
With countless fresh flavours landing in our engine room daily it would be a disaster if we didn't inform you of a few cheeky speciality ingredients that are also on true form this week.
Do You Really Want To Miss It ???
Dont Miss Out On Some Inspirational Facts.
Red Wine **EXCITMENT**
This is an offer that will save your GP so don't glide past it, fill in the form and take advantage of Golden Del Boys SIXTH offer for 2019.

Red Wine is a kitchen necessity and everyone uses this most flavoursome liquid in some way every day so this weeks offer is a total winner (Hiccup)

Anyway, the point we are trying to get across is the time has come to save your GP from destruction as its a RED WINE GIVEAWAY this week.

Don't forget you can use this offer as many times as you like for the week ahead.
Hero Of The Week **Charlotte Wakelyn**
One afternoon while shuffling around the rhubarb sheds our upload channel from the form below ignited as a most inspirational picture arrived of a tremendous 'passionfruit and chocolate' Creation (dark chocolate solero, passion fruit cremeux, macaron, honeycomb, white chocolate snow) We couldn't stop looking at this beautiful creation, and into the poll it went along with all the other tags and uploads we received last week. For your dedication to the season and holding the patience to create such a masterpiece we are happy to announce that charlotte wakelyn who works at Hoar Cross Hall has been crowned our Upload Hero Of The Week. Get In touch to claim your prize...
Veggiecation - Sunderland
The veggiecation pulse was strong this week as our continual drive to inspire the younger generation of the trade continued with another trip to the amazing Yorkshire Forced Rhubarb sheds.

Sunderland College is a most inspiring place and we have set up a programme of events with the team to offer a seasonal message to the chefs of the future.

This engagement makes sure that once out into the wild (so to speak) this generation holds the knowledge around the season, been and witnessed many growers and different producers making sure they are full of knowledge and hold a deep Love For Food.

It's great to see the engagement from the students not to mention the fun they brought while knee deep in mud especially for the lady who came in her going out shoes!!!

The Delifresh Veggiecation project is here for all to become inspired by all things food - Colleges, Schools, Charities even private events our Veggiecation is here to excite.
Maybe You Know Someone Who Would Benefit ???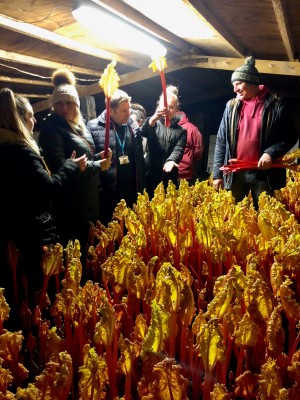 The Perfect Segment.
If you create your own fruit salad or require the most perfect segment you need to watch this as it will blow your senses!!!

Get in touch if you want more information on this amazing product...
Here For You
Vegan, Vegetarian, Pescatarian, Gluten Free, Dairy Free, Shellfish, Pollen, Nut, Kiwi, Egg, Garlic, Soya Allergies the list goes on and on around what our food cannot contain.

This explosion of requirements makes our work as creative culinarians extremely difficult.

One thing we should all note though is although it can be cumbersome and difficult a true allergy, intolerance or diet can be extremely difficult to manage.

As a trade, we need to support and offer a creative alternative to the foods that can't be consumed so our guests feel inclusive and get to feel our most creative flair.

In the past, this has been difficult to showcase but not anymore...

Welcome to Born Free !!!
How exciting is this???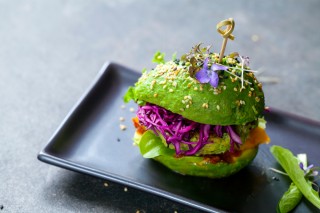 Fish Batter - Gluten Free **Amazing**

Fish & Chip lovers across the land enjoy crisp and most delightful battered fish. The only problem is if you are intolerant to Gluten you could be struggling to get a sophisticated battered fish.

Well not anymore as we stock the most amazing Gluten Free batter mix that will most definitely change your life.

Created by Ceres and endorsed by Phil Vickery this crisp golden frying batter is a marvellous thing.

Fresh Pesto - Nut Free

Pesto is a remarkable ingredient which as we all know is ultra versatile.

If you are looking for some Nut Free inspiration the hunt is over as this fresh Nut Free pesto can still offer that traditional flavour and all the uses without the nuts.

How clever is that ???

Panko Bread Crumb - Gluten Free

Bet that stopped you in your tracks!!!

You can now offer those most amazing crisped fish cakes, coated prawns even those delightful croquettes to all as we stock a Gluten Free Panko Crumb.

You must state Gluten Free while ordering, and we will make sure your 10kg bag finds its way into your kitchen with rapid speed,
Easy Egg Replacer - Vegan

Just think about this you can now make Vegan Yorkshire Puddings with this!!!

An amazing egg replacement product perfect for cakes, meringues or anything else where you need to use eggs in but can't as you are trying to create a Vegan or dairy-free option.

Simple Instructions
For 1 Whole Egg: 1 teaspoon (3g)* egg replacer + 2 tablespoons (30ml) water
For 1 Egg White: 1 teaspoon (3g)* egg replacer + 1 tablespoon (15ml) water
For 1 Egg Yolk: 1 teaspoon (3g)* egg replacer + 1/2 tablespoon (7.5ml) water

Fruit Scones - Gluten Free

Looking for Gluten Free afternoon tea options ???

Your search is over as these hand made Gluten Free scones are perfect. Just simply defrost them and you wouldn't know the difference they are great.

Handmade in the rolling hills of North Yorkshire they are a perfect treat for anyone who requires a Gluten Free option.

Cheddar Sheese - Vegan

It's free from lactose, gluten and produced using an animal-free process. It's kosher and perfect for vegans and anybody looking to substitute dairy from their diet. What more could anyone need this is perfect.

The incredible texture of our new Mature Cheddar style Sheese slices even better than before. Mature Cheddar style Sheese is the perfect choice for all sorts of savoury vegan Croque Monsieur as well as pasta the list goes on.
Minor Figures Barrista Oat M*lk (Foamable) - Vegan

Imagine being able to make a perfect cappuccino with a consistent foamed milk which is stable, tasty and suitable for a Vegan diet, dairy free etc

Well, don't dream anymore as Minor Figures Oat M*lk has us all covered. Created to work perfectly in any situation you need to try the Oaty option as it will blow your senses. **we haven't spelt M*lk wrong check out the carton when you get one delivered !!!

Grated Mozzarella Style Cheese - Vegan

If you are looking for a cheese substitute that melts great and performs like mozzarella then you need to give this a go.

In 200g bags to cut down on wastage, this Mozzarella alternative could change your life forever.

Peanut Chip Ice Cream - VEGAN

This peanut chip ice cream is a firm favourite, and we challenge you to experiment with it.

There is no doubt that people won't even realise that it contains ZERO dairy. The texture is outstanding; the flavour will keep you up at night - You need to try it and find out how truly remarkable this vegan option ice cream really is.
Neutral Tartlets - Gluten Free

These small Gluten Free tartlets are ready for the challenge.

Made utilising rice they host a crisp texture with a truly remarkable eating quality and storage ability - You need to give them a try!!!

Whipping Cream - Vegan

We are also a little shocked but this coconut-based whipping cream works a treat.

You can whisk it by hand but to get the best result get it in the electric mixer on full speed and watch it thicken into a great textured cream substitute.

Jack Fruit - Vegan

A fantastic protein substitute Jack Fruit needs to be looked into.

It can be eaten raw or shown some great heat, either way, it will keep its texture and make your mind go into overdrive.
Vanilla Ice Cream - Vegan

Northern Bloc has done it again with this total lifesaver!!!

We don't know how they do it but this fantastic vanilla ice will excite and give you a great addition to any vegan dessert you may be creating.

Soya Sauce - Gluten Free

Don't get caught out thinking soya sauce is free from such items as gluten as it's not.

Don't panic though as we carry a stock of gluten free soy sauce so why risk giving someone the wrong soya sauce just keep the gluten-free option in all the time.

Granola - Gluten Free

Breakfast time can be a tricky time for someone with gluten intolerance.

Not any more as we carry a range of gluten-free breakfast items like this amazing gluten-free granola.