Do You Hold News???
Welcome to the Chef News! What's been going on this week then...

This week we've been busy veggicating!

On Tuesday we visited Leeds City College to give a veggication talk to the Level 3 students, it's great to see students being inspired about the wide range of fresh produce available and for them to learn about products they've not heard of before.

On Thursday the team from Thwaites came to visit for a warehouse trip and a visit to Robert Tomlinson's Rhubarb sheds, it never fails to amaze anybody who hasn't seen Rhubarb growing before...

In other news, Francisco Martinez Group Exec Chef for Fazenda Group is currently doing a charity trek in Jordan of 100k for action against hunger!

And also we must mention the guys from reds True BBQ who are over the pond battling it out to be international BBQ champions (good luck Clint & team)

Come back next week for more...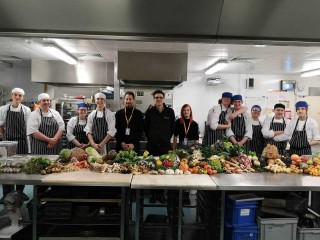 What's going on here...
Do you know how Chick Peas are grown?
Its Simple To Find Your Way Around
What Else Takes Your Fancy??